Misc ILLUSION Honey Select – Shower with my Roommate!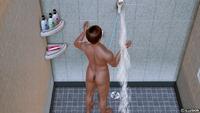 Tags: 3d, illusion, uncensored, sole female, sole male, speechless, honeyselect, kissing, nakadashi
Description: A shower with a big surprise. That's what you get for having girl roommates, lol!
This is my first time with Honey Select Studio. Hope you enjoy! And please add more tags if you wish, I dont know much about the proper ones. Thanks!
Source –