Doujinshi Circle Taihei-Tengoku (Towai Raito) ZONE 46 Camouflage under the satellite (Black Lagoon) ingles EHCOVE Digital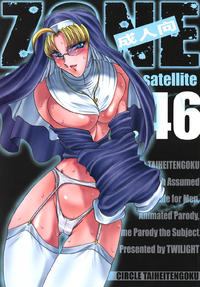 Tags: circle taihei-tengoku, ingles, towai raito, Comic porno espaÑol, black lagoon, nun, eda, rokuro okajima, revy, sole male, sunglasses, big breasts, stockings
Description:
translator: ultimaflaral
proofreading: ultimaflaral
editor: 1/4 Based Anon
raw: https://e-hentai.org/g/679483/13f7591cce/ (share by RtS, DL rip)
Red's rant: More great BL stuff is in the pipeline. We need more editors to help clear the backlog! Ulti had the following to say here: "More ZONE goodness with Black Lagoon. This one's a split feature with Eda and Revy, and it's hilarious. Probably the funniest Catholic "confession" I've ever seen. Definitely epic."
E-hentai tip of the gallery:
1) Did you know you can earn hverse EXP and gallery commenting power if you add to our discussions on quality of galerias: https://forums.e-hentai.org/index.php?showtopic=36923 ?
Ads:
We are always recruiting editors, translators and proofreaders for EHCOVE. If you are interested, come by the Cove of Translators in the forums and introduce yourself.
Follow this link:
Doujinshi Circle Taihei-Tengoku (Towai Raito) ZONE 46 Camouflage under the satellite (Black Lagoon) ingles EHCOVE Digital