Game CG Sets Nutaku/DMM Sengoku Providence H-CGs Update Read Description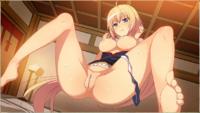 Tags: nutaku, dmm.com, big ass, big breasts, small breasts
Description: Updated to replace https://e-hentai.org/g/1080172/8d64125ad5/
Again, CGs are ones I obtained myself. CGs "ripped" using Snipping Tool program (Standard program built into most Windows OS)
I managed to grab a few more CGs only minutes after I posted the original gallery…shoulda waited.
Anyway, something I didn't point out in the first gallery…These are NOT the only characters I've obtained, but they are the only ones I've bothered keeping, and therefore the only ones that CGs become unlocked for.
Again, all credits for the imagenes go where they are due.
Again, this replaces https://e-hentai.org/g/1080172/8d64125ad5/
…I suppose I should list the characters again.
1-4: Dousetsu Tachibana (single set) Unfortunately only one set. My favorite girl, and my strongest unit.
5-12: Hideie Ukita (both sets) Second favorite, and second strongest.
13-20: Munenori Yagyuu (both sets) My first unit I managed to get Evolved. Also my ORIGINAL favorite.
21-28: Yoshitatsu Saitou (both sets)
29-32: Matehime (single set)
33-36: Matabei Gotou (single set)
37-40: Naotora Ii (single set) …Oddly enough, this version of her is BETTER than the Sengoku Musou version…
41-44: Terumune Date (single set) Too difficult to get Masamune, so I settled for this one instead.
45-52: Kagekatsu Uesugi (both sets) Got her hoping to get Kenshin Uesugi in Premium Gacha…still don't regret it
53-56: Hanahime (single set)
57-60: Kyouunin (single set)
61-67: Yoshinari Mori (both sets)
68-71: Masanobu Kousaka (single set)
Enjoy, and please rate fairly. Comments on how to get better screencaps without doing anything too in-depth (like disassembling a .swf file, like some people do to get these, and which I WON'T do, because I don't want to fuck something up.) are welcome…and if you like it, don't forget to favorite it.
Lee este comic porno:
Game CG Sets Nutaku/DMM Sengoku Providence H-CGs Update Read Description