Doujinshi (C91) Mitarashi Club (Mitarashi Kousei) Akiko-san to Issho 19 (Kanon) ingles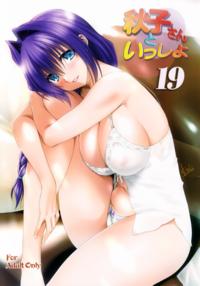 Tags: ingles, kanon, big breasts, incest, milf, mitarashi kousei, multi-work series, sole female, sole male, lingerie, mitarashi club, akiko minase, Comic porno espaÑol, yuuichi aizawa, aunt
Description: Translator's Notes:
Here's the original in case anyone wants to compare: https://e-hentai.org/g/1036213/70c468a70d/
Pardon the breaks in dialogue, but there's a lot of them in this one, and it took me a while to get the wording up to a satisfactory level. That's not including some of the fragmented sentences and the liberties I had to take with the dialogue as a result.
I'll put the translation for the afterword here, since I don't want to ruin the artwork on that page.
—————————————–
Greetings, and thank you for taking the time to read this book.
Like my last release, this one has no connection to any of the other works in this series, and I apologize for that.
Anyway, the concept for this one came from asking myself what it would be like to live with Akiko-san. After I thought about it and put the story together, I realized that it easily fits the series' framework.
The next one will pick up where this one left off. As you may have guessed, the next book will be a 3P story. As for the reason, it's only because I WANT TO HAVE SEX WITH NAYUKI.
By the way, the outfit I gave Nayuki is a casual summer outfit. That was a first for me, and I look forward to being able to draw it some more.
Until next time!
Mitarashi Kousei
Lee este comic porno:  
Doujinshi (C91) Mitarashi Club (Mitarashi Kousei) Akiko-san to Issho 19 (Kanon) ingles