Doujinshi Shugo Kenshi Étoile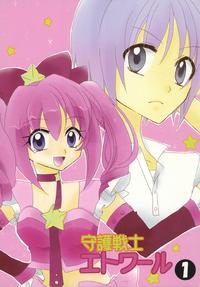 Tags: gender bender, mikasa, aloeblues
Description: Title Translation : guardian swordsmen Étoile
Etowaaru = Étoile (which means "star" in french)
Romanji: : Shugo Kenshi Etowaaru
Pg 19 Japanese might believe the tower of babel is a Hebrew myth by created by bored goat herders and primitive cavemen in the Middle East…but it isn't a fable! In fact Kyuubei thinks there is still an invisible real tower that leads to god's world. Humans may have been scattered for building tall stuff together before, but they are foolishly building skyscrapers into the heavens and launching rockets again…. So we didn't find god or heaven when we looked in space right? However, Kyuubei says there is a key to god's world which opens the gate at god's castle.
"We gave three female swordsmen the strength to fight the noir which could harm this world and destroy the cosmic balance. You are one of them. ROW ROW FIGHT DA POWAH…BOY!"
I'm not a girl though!
kyuubei knockoff: So I made a blunder. But are you gonna fight the noir, or am I going to have to cut off your arm to retrieve the bracelet? (It will never come off.) Good choice. Listen up, kiss the bracelet to transform into a girl.
When your "boyfriend" kisses you you can turn back. Oh, and you're strong enough to pick up the Tokyo tower when you transform. And you can use star magic that looks like fireworks. Oh look an enemy girl has appeared, and you know what you must to do. Just do it! Do it before you die!
Sadly even though this BL gender bender doujin has a plot, it will probably never be Comic porno espaÑol. Translating generic dickrape is just more popular; this has no chance to compete.
If you like superhero magical girls you can buy it and the sequels. It's cheaper on dmm atm:
http://www.dmm.co.jp/dc/doujin/-/detail/=/cid=d_069243/
http://www.dlsite.com/home/circle/profile/=/maker_id/RG21525.html
View post –