Non-H (Hentai) Kitahara Koubou. (Kitahara Tomoe.) Kin-iro Experience -Requiem- (Kiniro Mosaic) ingles GH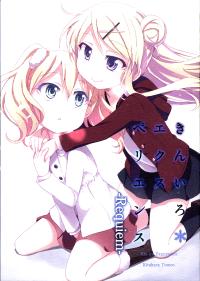 Tags: females only, ingles, kiniro mosaic, kitahara koubou, kitahara tomoe, Comic porno espaÑol, alice cartelet, karen kujou
Description: Raw: Here.
Scans by yurihou.se
Info: https://www.doujinshi.org/book/767087/
https://www.melonbooks.co.jp/detail/detail.php?adult_view=1&product_id=20034
http://www.toranoana.jp/mailorder/article/04/0030/17/15/040030171583.html
http://www.pixiv.net/member.php?id=144203
DDL:
https://www.dropbox.com/s/ktm234fkg1jtvib/%28Hentai%29%20%5BKitahara%20Koubou.%20%28Kitahara%20Tomoe.%29%5D%20Kin-iro%20Experience%20-Requiem-%20%28Kiniro%20Mosaic%29%20%5Bingles%5D%20%5BGH%5D.zip?dl=0
Uploader Comments: We took a short break from uploading due to school and work, but we did not want to let what we worked on go to waste! So here is a KINMOZA doujin for you all! Was quite surprised to see a serious story from KINMOZA, but the characters were still the same old girls we know so it was a very enjoyable read nonetheless. Enjoy!
If anyone happens to know where we can find the previous doujin "きんいろエクスペリエンス" or maybe the full "きんいろエクスペリエンス クインテット 総集編+". Message me and we'll work on those too.
Source article: 
Non-H (Hentai) Kitahara Koubou. (Kitahara Tomoe.) Kin-iro Experience -Requiem- (Kiniro Mosaic) ingles GH