Doujinshi Hoyoyodou Kora! Anta Hahaoya o Kudoite Nani Shiyoutte Iu no! ~Hahaoya Hatsujou Hen~ Kouhen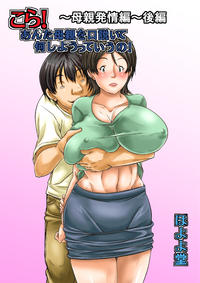 Tags: milf, mosaic censorship, bloomers, bondage, hoyoyo, hoyoyodou, big breasts, bike shorts, incest, mother
Description: This is the second version. The one that was re-color because the artist didn't like how they look in the first version. I believe "hoyoyo" refers them to looking like zombie.
I purchase this cause the color is way better and what else would be better then a improve version/ ingles version.
Aw yea, ingles version is coming soon. Well, to be precise the script is about to be done. I will be needing a editor/ typesetter soon. So if you are interested in typesetting this for me. Please PM me.
Continue reading: 
Doujinshi Hoyoyodou Kora! Anta Hahaoya o Kudoite Nani Shiyoutte Iu no! ~Hahaoya Hatsujou Hen~ Kouhen