Misc 3Diddly Hannah's Corruption Chapter 9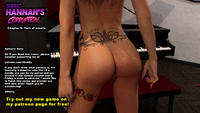 Tags: 3d, 3diddly, blackmail, ingles, pregnant, bbm, cheating, misc, moral degeneration, multi-work series, netorare
Description: New 3Diddly's World 3D game is out! Check my Patreon for a free descarga directa.
Please support me on patreon so I can finish this series and provide you with new ones! For those of you who don't know what patreon.com is, it's basically a donation site. You can become my patron by paying 1$ a month, charged at the beginning of the month.
Also I would like to eat a warm meal once in awhile…
New chapters will be uploaded to patreon first!
patreon.com/3Diddly
Source article: