Non-H Kuramochi Zukan T-Beast 2 Transformers Digital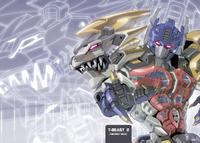 Tags: parody:transformers, group:kuramochi zukan, artbook
Description: Here's the full T-Beast 2 book (or as it's titled in Japanese listings, "T:BEAST2").
I know we've all been waiting for it to be uploaded so I took the liberty of doing it myself.
I've added torrents for both the jpegs in this gallery as well as the high-res tiffs extracted straight from the PDF.
I'll also be adding the same torrents for the first T-Beast book: https://e-hentai.org/g/945314/0b7c1d59d5/
If you can, please support the official releases:
T-Beast: http://www.dlsite.com/eng/work/=/product_id/RE168486.html
T-Beast 2: http://www.dlsite.com/eng/work/=/product_id/RE187019.html
Original source: